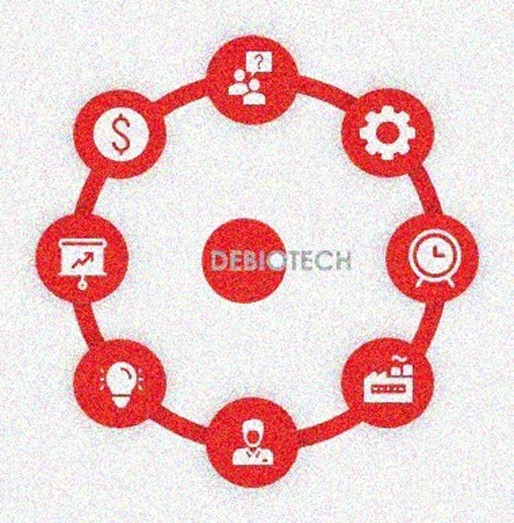 The goal of this publication is to help you in your transversal project management activities. Transversal project management is not a straightforward task involving a single individual; it is indeed a set of numerous and complex tasks with multiple stakeholders involved from different departments and organizations.   
This is the third part of a series of 6 articles on this topic.
Targeted audience
The information gathered in this publication should be particularly useful for:
C-Level executives,
Project Managers,
Quality Managers.
Transverse project and organogram
As described above, a transverse project involves individuals from different departments and the PM must coordinate their work. In top-down or hierarchical organizations, as illustrated in Figure 2, it is often not straightforward as PMs are rarely top-level executives and therefore do not have official management responsibilities on each member of the project team.
Figure 2. Hierarchical organogram
It is also frequent that some members of the project team report to someone who is not involved in this specific project. This represents potential difficulties for the member of the project team or for the PM. In these situations, PMs and department or team heads must ensure their strategical goals are aligned and they share common objectives. This is usually reinforced by the implication of the sponsor in the project.
A way to reduce the risk of misalignment of strategic goals within the organization is to clearly differentiate the departments of the company within the organogram and to create a Project Management Office department. The PMs are part of this PMO, the head of the PMO ensure that priorities among projects are well defined, communicated and understood by the different department heads.
The members of the project team must be identified and their allocation to each project shall be defined by the PM and validated by the sponsor. This allows department heads to have a management aligned with the company priorities.
An illustration of possible company organogram to support such project management organization is provide in Figure 3.  This type of organization is usually called a matrix organization.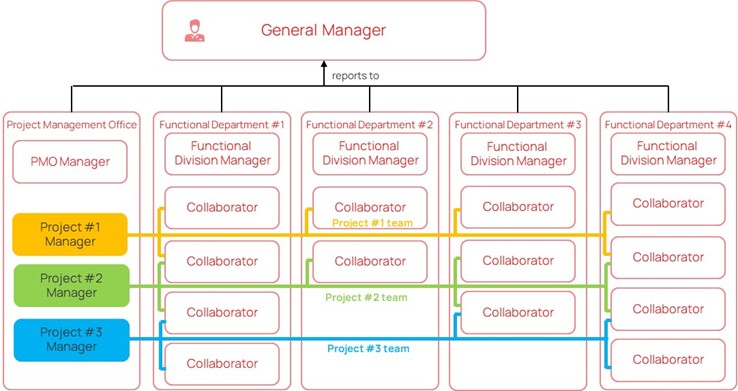 Figure 3. Matrix organogram
Next steps
Debiotech is glad to have the opportunity to share its knowledge with innovative companies from the MedTech industry. Your feedbacks on this publication are welcome and will be used to update it or to create new publications on topics you care about.
Continue your education on medical device development by:
Debiotech would be proud to be your partner and support you with:
Medical device design & development services:

Software: Digital Health, Firmware, Embedded, SaMD
Electronics: Design, Verification and Validation
Mechanics: Design for micro-fabrication & fluidics systems
Supply chain development and optimization
Support in medical innovation management:

Market analysis and segmentation
IP management
Business plan consolidation
Partnership development